Housing No. 4, Dequindre Cut
An Urban Proposal for the Dequindre Cut, Detroit
(A Situation Constructed from Loose Overlapping Social and Architectural Aggregates)
House No. 10 (House with Courtyard)
A House with Courtyard, Proposal
School No. 2, Institute for Advanced Study, Commons
Campus planning and a new Commons building at the Institute for Advanced Study, Competition Entry
School No. 1, (Krabbesholm, Art / Architecture / Design School)
An art, architecture, photography, and design school campus. The studio buildings are arranged to allow for the various disciplines to look at each other's studios and share exterior porch and courtyard spaces.
Solo Exhibition No. 1 (Screenshots, Photographs, Videos, Mugs)
An Exhibition of MOS's work at the Taubman College of Architecture and Urban Planning at the University of Michigan.
Exhibition Design No.3, The Other Architect, CCA
This exhibition is organized by CCA Chief Curator Giovanna Borasi with graphic design by COCCU Christian Lange (Munich)
Store No. 2 (Chamber)
A design gallery and office in Chelsea, NY.
House No. 5 (Element House)
Systems and Shapes:
The argument goes that Form is a System and Shapes are, well, shapes. The two are disciplinary fr-enemies  they act like friends from time to time, part of the same clique, but in private they trash each other.  Systems people are pedantic technicians, neurotic puppet masters of geometry. They obsess over means. They talk too much about process. They claim to like Schoenberg. Whereas, the Shape people describe themselves as cool, easy, and graphic.  They are interested in an immediacy of effects. They live in Williamsburg. Systems are typically plan based. Shapes are elevations, or silhouettes. Systems are conceptual. Shapes are commercial. Systems like repetition and difference. They use patterns, trajectories, and magnitudes. Shapes prefer singularity, they use fillets to round corners and reinforce the shape. Systems are centrifugal. Shapes are centripetal. Systems get excited by the allure of computation. They play with Catia, Processing or Grasshopper, mumbling intensely about discretizing surfaces. Shapes prefer Photoshop and Illustrator. They use pens. Systems frustrate pictorial imagery, through their emphasis on process. They gaze at their feet. Shapes relish the pictorial. They swoon for photos. Systems produce their own ground. Shapes don't like anything that disrupts their shape.
This little house in the middle of nowhere, it is indifferent to all of the above.
House No.11 (Corridor House)
A 500 square foot house, the size of corridors in many suburban single family houses. The prototype was included in the Chicago Architecture Biennial.
At some point, before Twitter, the corridor killed a certain type of architecture. Courtyards collapsed into light-wells; diagrams became buildings. It was all transit, all the time. Architecture became about the circulation of things, people, air, light, goods, _____, etc…. Space became a lubricant. It was almost spiritual. Architecture embraced this new efficiency, the short circuit, a faster way of getting from one place to another. As space was replaced with movement, stuff was jettisoned, the leftovers piled up. Nowadays, corridors are a necessary afterthought, an indifferent chasm joining this to that in houses all across everywhere. This house occupies that circuitry. It's one variation of many, an assembly of parts that are both technical and archetypal. It vaguely resembles the strange figures of suburban vernacular corridors along with the openness of a Miesian courtyard house. Each module approximates the dimensions of a standard corridor and a 5'x10' sheet of plywood— but in many cases the space of corridors are big enough to inhabit, to fit a small room (bed, desk, chair). Each module is positioned orthogonally, one after another. The exhausted broken pediment has been copied and pasted without end. The overall configuration is loosely organized around a collection of exterior spaces, but it is disassociated from its ground. It's repetitive. It's made of parts. It's casual. It's banal. It's almost familiar. It's nothing in particular. It fits on a truck.
The Indifferent Courier

Architectural Indifference
If all disciplinary narratives are personal and provincial, then we are not quote-un-quote postmodern, but post-parametric. Parametricism was our model of both total expert control and novelty, a positivist expressionism. (Gestural forms argued through technical precision.) This expressionism encourages our indifference. Previous progressive (avant-garde) disciplinary narratives relied upon technique to destabilize "form." Eventually, technique was simply replaced with technology. Nowadays, it is the idea of progress itself (both disciplinary and technological) that is in doubt. The Belgians have replaced the Japanese. We've witnessed the return to the pre-internet 80s, pre-nurb painterly compositional models, hand-sketching, collage instead of photo-realistic digital renders, Miami Vice pastel colors, etc…. But that said, today nothing dies, so even constructing a narrative like this seems inaccurate and partial. All disciplinary procedures, narratives, models, etc… co-exist, perhaps it is the volume and tone that has shifted. Students aren't racing towards the latest technological apparatus or digging up some arcane geometry, like they used to, if anything they seem to be looking for some forgotten stylistically bizarre image from the junkpile of history. Our field appears flatter and more diffuse. It is impossible to imagine an original architecture or something shockingly new. (Similarly, pedagogy itself has been replaced by an amazon algorithm, if you like this you'll probably like this too.)
All in all, Architecture seems pretty boring these days, and that's okay. Our current condition is the aftermath to the recent positivist expressionism and the academic and curatorial emphasis on urgency or crisis over the past decade. There are plenty of things to be worried about and need solutions, but our current architectural problem might be the reverse- how can we instrumentalize or perhaps construct new modes of architectural indifference. Architectural indifference puts things together that don't necessarily belong, it stares blankly, it confuses or equivocates parts and wholes (a doorstop could be as important as a wall.) Indifference works with the vaguely familiar, the deadpan. It uses our collective state of constant distraction and flattened forms of attention towards constructing an architecture.
Community Center No. 3
A Proposal for a Community Center, Educational Facility and Presidential Center in Hawai'i.
Mixed Use No. 3 (Housing and Art Foundation and ______ )
A 10 story mixed-use building in downtown Seattle that contains below-market rate housing for artists and designers along with an arts foundation, green roof, research library, exhibition space on street level.
Representations of Representations, A Possibly Newer Collectivity
Those cartoon avatars of iconic willpower couldn't care less about what you think, as long as you're paying attention. They're busy expressing their individualism, a kind of commercialized expressionism that treasures novelty, but only so long as it makes sense.
Meanwhile, the generic quietly repeats itself in the background without language or much notice. It doesn't need to make sense. It operates within the vaguely familiar, a vernacular without the baggage of authenticity. The generic is always referencing something else, pointing away from itself, constructing images constructed from images.
The generic and the iconographic no longer require those long-gone linguistic and meta-obsessed disciplinary models. Nowadays we have no clear index to follow or subvert. There's no definitive memory, no absolute spirit, only repetition. History has become a diffuse narrative of contingencies. Our current state is a sort of postmodernism without semiotics, postmodernism without language. What's left is both whole and fragmented, bits and pieces of a flattened ontology where matter, data, and images are made inextricable.
Today we value things that are both repeated and singular. We are constructing our worlds through representations of representations. The generic is our new contemporary collectivity.
House No. 9
A Prefab House, Proposal, In Progress
Mixed Use No. 2 (Studio and Apartment)
An artist studio and apartment and roof garden in Brooklyn, NY, Currently Under Construction
House No. 8
A Single Family House in Upstate NY, Currently Under Construction
House No. 7
A Single Family House in Upstate NY
Community Center No. 2 (Kathmandu, Nepal)
An orphanage, school and public library in Kathmandu, Nepal, Currently Under Construction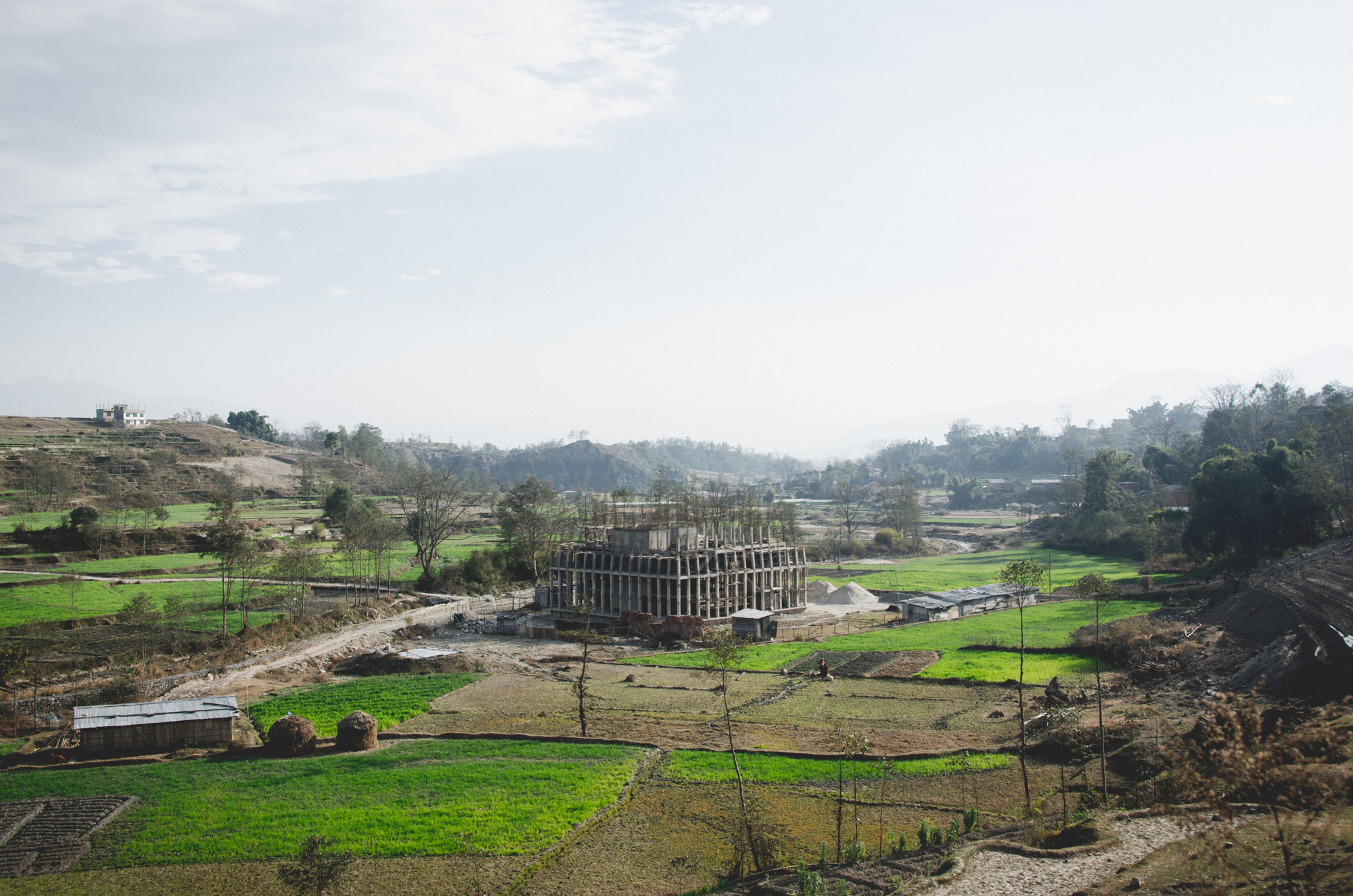 Installation No. 12 (Souvenir Pile)
Souvenir Pile was part of Legible Pompeii, an exhibit in collaboration with Lucia Allais, presented in the Monditalia pavillion at the 2014 Venice Architecture Biennale.
House No. 6 (Solo)
Much of our recent work involves us traveling long distances and imagining new generic typologies, something both repeatable and informal. This house is made of a T tower shape; it might echo the ruins of old medieval stone towers scattered in the landscape. We photographed a few of them while driving to the site.  The towers are solar chimneys. The green roof matches the surrounding landscape. Each T is basically a single concrete room with large windows that look into the surrounding olive grove, except for the T that tipped over, that has two bedrooms.  
Store No. 1 (Miami)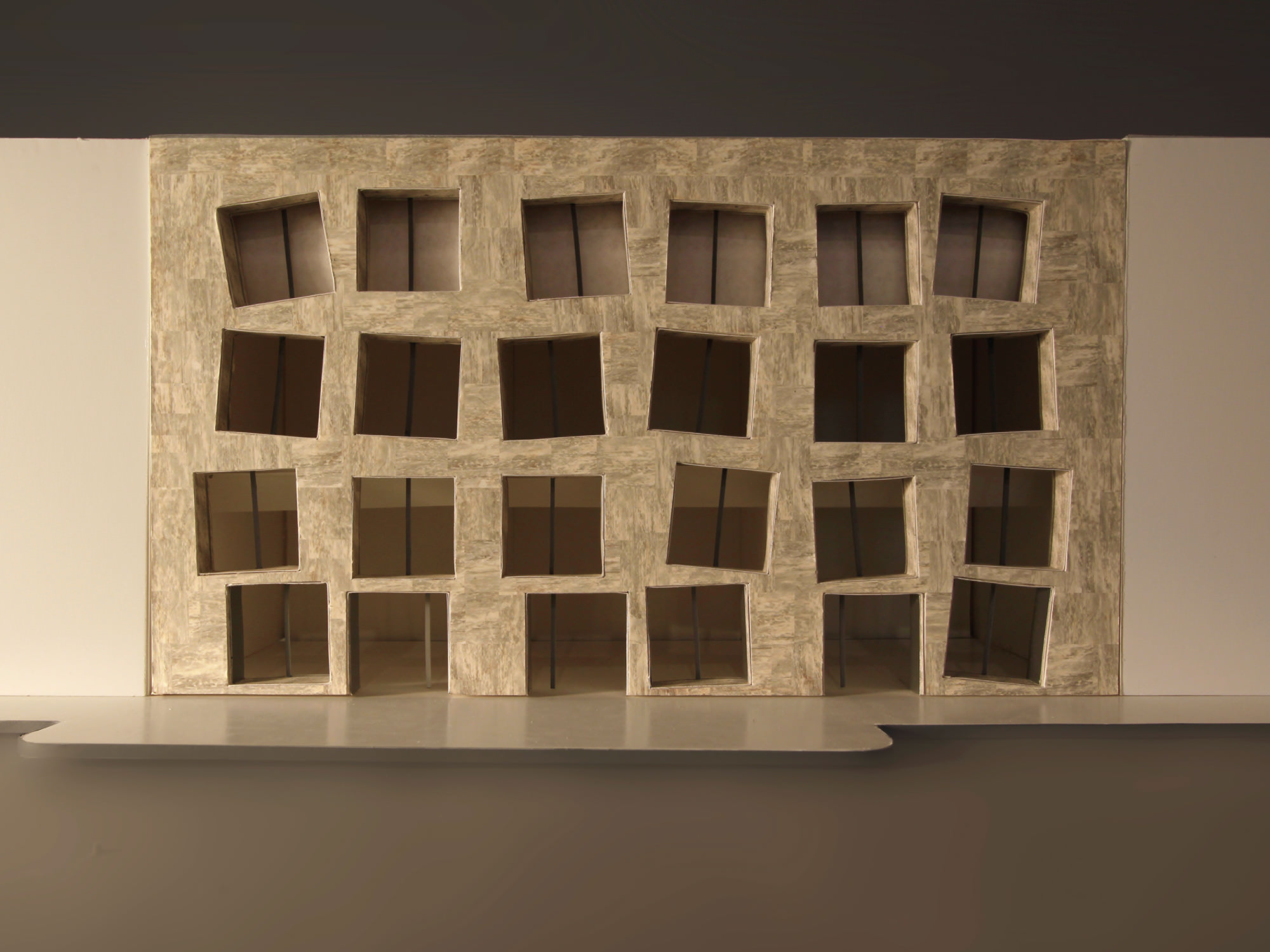 Software No. 13 (FACADE)
Studio No. 2
An artist's studio located in Upstate NY.
House No. 2 (Floating House)
A masterplan for a series of houses on an island, the main house floats in Lake Huron.
MoMA Foreclosed
Part of the Foreclosed Exhibition at the Museum of Modern Art in NY.
Already Happened Tomorrow
Pavilion No. 8 (Droop)
Competition Entry for Pavillion Speciale in Paris
Software No. 12 (Droop)
Installation No. 10 (Instant Untitled)
We've been thinking about writing this text for a while, starting, then checking our emails, then stopping. It's not easy to write about your work. Ideally, we would write a charming text that would explain everything clearly and simply to everyone. Reading this text, everyone would smile and think "Oh, that is sooooo funny and smart and clear and interesting." Then they would think, "Why have I never heard of MOS before?" Our office would seem more remarkable than it really is. No one would suspect that we're boring — that we sit in front of computers, and that some nights, we even dream of sitting in front of computers. Despite our efforts, most of our work remains in the computer. Still, our work is more social than we are. It travels, although mostly it visits other people's computers.
As we are reminded daily, this is not an ideal world. Oil is gushing. Icebergs are melting. Landscapes have been turned into corporations. Architecture is a big, heroic spectacle. Urbanism is no longer an operative surrealist exercise based on the physical juxtaposition of difference. Maybe nobody cares. Maybe nobody is reading this. We're indifferent. Anyway, we're not sure we can read any further either. Some of you might wonder, "Why do we Americans even need a pavilion in Venice? It's absurd!" In our forthcoming idyllic and incredibly thoughtful text, we would respond by telling you exactly what "Instant Untitled" means, what it references, what you should see when you look at it. The first thing we would tell you is that it is very sustainable. In fact, it's probably the most sustainable thing in Venice. (If Rome is heavy and real, then Venice is light and fictional -but Venice isn't sustainable. Fictions rarely are.) We might mention that I.U. has a small carbon footprint. It barely even exists. It's an urban figment. Actually, we're not sure what it is, but we're sure it's incredibly sustainable. Although, that's really saying nothing. Now that we think about it, that's a terrible idea, we probably wouldn't mention it.
If you've seen the structure, we're sure you're wondering, "Why is it made out of helium balloons, why does it make a canopy, why is there seating, etc… Is it referencing other projects? Is it analogical? Is it utopian? Is it micro-? Is it urban? Is it domestic, what is it? Is this even architecture?" (Unfortunately, we can't answer that last question. This type of project is like diet-architecture, a copy without the calories. It's got a sort of bitter aftertaste that you might grow accustomed to, or you might not. That's ok. We like fake architecture.) We've been wondering, what kind of architecture would Haruki Murakami make? Well, when we finally write our text we will definitely tell you that it does, indeed, mean something and it does reference things, but why would you really want to know all of that anyway? Do you really think it would make it better? What about just enjoying this weird artifice, this fake social space? Hey, it wiggles. Look at this strange alternate environment made of reflections and repetitions. Enjoy the visual noise. Have you ever seen N.A.S.A.'s Echo project? Google it. What can we say, we just love the aesthetics of radar reflectors and inflated satellites. They are of another reality. Seriously, even if we wanted to fully explain it to you at this very moment, we couldn't. Even though we're trying not to be, we're only human. Also, they need this text before we've finished the design. Did we mention that we are working with the son of Andy Warhol's "Silver Clouds" fabricator? We're very excited about this. He lives in Duluth.
Pavilion No. 6 (Uganda Community Structure)
A pavilion for communal gathering and storytelling in Gulu, Uganda.
Pavilion No. 4 (PS1 Afterparty)
One thing about the "Afterparty," as we're calling it, is the need to look for new promiscuities, new methods of design, after the party of a sort of high-formalism which has dominated academic discourse. In this particular case it's with the basic structural arch and dome geometries, rough base materiality and the production of a totalizing "environment," (literally cooling down the courtyard through stack effect) looking towards a more primitive state of architecture. From Wikipedia- An afterparty, after-party, or after party is a gathering that occurs after a party, a music concert, a premiere or the closure of a nightclub. An afterparty may provide additional social opportunities for people who do not want to return to their respective homes.The main purpose of the afterparty is to provide a relaxing environment, as compared to the earlier venue, where the atmosphere is usually more frenetic. During an afterparty people often sit down, relax, and chat freely, meet new people in a more controlled setting. If the original party was one that continued until late at night, the afterparty will often include a morning snack, which usually counts as breakfast. …. Possibly in contrast to relaxation, the afterparty can provide a chance for people to get away from the eyes of people who were overseeing the main party. This tends to be more common in events such as school balls where alcohol consumption is not allowed, and provides a location where the partygoers will be allowed to drink. In this case, the afterparty may turn out to be more lively than the main party, as the people are freed from the restrictions that were placed on them during the main party.
House No. 3 (Ordos No. 6)
A Single Family House in Ordos, Mongolia, China, designed as part of the Ordos 100 Masterplan, curated by Ai Wei Wei and Herzog & de Meuron
Installation No. 9 (Rainbow Vomit)
Installation, background for a performance.
Software No. 4 (Sand)
Software No. 3 (Stack)
Pavilion No. 1 (Puppet Theater)
A temporary puppet theater pavilion built for a Pierre Huyghe performance, celebrating the 40th anniversary of Le Corbusier's Carpenter Center, Harvard University, Cambridge, MA.
The Zombies Are Late
House No. 1
A Single Family House in Upstate NY.
After The End. We were taught to dismantle things, to take buildings apart piece by piece in order to look at their make-up, schooled in techniques of indecision, formal analysis, cultural criticism, theory, diagram, filmic operation, animation, scripting, didactic process – the disciplinary narratives of the neo-avant-garde. Our teachers were masters of instability, doubt and meaninglessness. Nothing was more important than nothing. Solidity was sublimated. Ground was displaced. Structure and gravity were non-topics. Building codes were too boring to be bothered with. Familiarity required systematic acts of defamiliarization. The vernacular wasn't considered architecture, just an instantiation of the banal, better to be ignored. Architecture, like art, was a problem of overcoming the horror of individual will, idiosyncrasy and expressionism. So we were taught to make machines and elude ourselves with their inhuman techniques and autonomous systems. Everything was flawed from the outset. Never say "I," always use the third person. Don't take criticism personally. Don't try to solve social problems (they are not the problems of architecture). Use "void" whenever and as much as possible. Architecture is the history of representation, of abstraction through mediums (think "perspective," "orthographic projection, i.e. plans," "axonometry," "collage," "photography," "digital models," "rendering," etc.). Avoid commerce. Don't think about architecture through skills, craft, physicality, or the base materialism of buildings (these are so-called vocational concerns not disciplinary or conceptual problems).
In this way, we were sucked into a neurotic black hole, seduced by academic games of negation, anti-architecture. Although we loved and love playing amongst the smoldering ruins, eventually (perhaps out of sheer exhaustion) it seemed that our problem became the exact opposite of the one laid out by our teachers: to collect and gather the leftovers from the neo-avant-garde and attempt to weld them back together, to engage the world, the real, gravity, craft, economy, commerce, data, the generic, and the vernacular, all while still acknowledging and employing the disciplinary history handed to us. We settled into a space that oscillates between the real and the representational. When we started our office, there was no need to further dismantle architecture, it was already game-over. We felt we were tasked to start again, to produce and assemble an architecture of collected fragments and overturned bits, everything made available to us within the diffuse field of dead ends we grew up within.